About East by Southwest
Since meeting at the William F Harrah College of Hotel & Restaurant Administration in UNLV, Chef Sergio A Verduzco and his partner and wife Hydi Lyn Verduzco have worked as a team with Hydi running the front of the house and Chef Sergio running culinary operations. Their career paths have run a parallel course with many positions at top notch properties under their belt.

East by Southwest is the culmination of their labor and vision. Since opening in 2002 East by Southwest has quickly risen to the top of the Durango restaurant scene, raising the bar and bringing innovation to Durango.
The menus at East by Southwest offer something for everyone. For seafood, sashimi & sushi lovers we offer a wide selection of line caught fresh fish including seasonal selections from sustainable fisheries all flown in fresh from around the world. Our talented sushi chefs craft creative sushi using varied and exotic ingredients that delight the senses. For meat lovers we offer the succulent American "Kobe" or "Wagyu" beef including free range Colorado Black Angus Beef, we also serve tasty poultry dishes using certified organic birds. Vegetarians and diners with dietary restrictions are not forgotten, with a wide selection of vegetarian dishes including many wheat free options available for them to enjoy.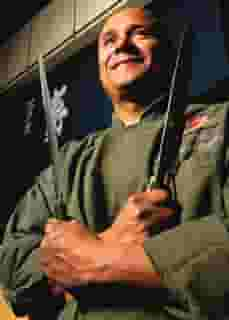 Meet Chef Sergio
Chef Sergio started his culinary career in 1979 at the age of 17 working as a Commis des Cuisine at Paul Anka's Jubilation in Las Vegas NV. In 1983 he graduated from the prestigious Culinary Institute of America, in Hyde Park, NY and returned to Las Vegas to attend (UNLV) where he graduated with a Bachelor's of Science in Hotel & Restaurant Administration.

While pursuing a formal education, Chef Sergio complemented his experience by working various culinary positions throughout the resorts of Las Vegas. He was instrumental in the openings of the Rio Resort and The Excalibur Hotel which at the time had the largest hotel food & beverage operation in the world. After graduating from UNLV, Chef Sergio joined Four Seasons Hotels & Resorts and was part of the opening team at the Four Seasons Hotel in Mexico City, as the assistant Executive Chef.

In 1994 He was recruited as the Executive Chef of the "Boutique" Bel Air Hotel & Spa in Costa Careyes Mexico serving a refined and exclusive clientele. It was during his time in Mexico that Chef Sergio started to define his culinary style blending traditional ethnic flavors and ingredients with French method and modern culinary technique.

Chef Sergio returned to the US in 1995 and joined Carefree Resorts as Assistant Executive Chef at The Peaks Resort & Spa in Telluride, CO. In 1999 Chef Sergio's interest in Asian cuisine bloomed and he enrolled at the California Sushi Academy. He then opened his first Japanese restaurant & sushi bar "Euphoria", receiving accolades for his creative approach in fusing Japanese cuisine with Latino flavors and ingredients.

In 2002 the success of Euphoria encouraged Chef Sergio to move to Durango, CO and open the acclaimed "East by Southwest" sushi bar & restaurant, raising the bar in the Durango restaurant scene and quickly becoming Durango's top dining destination. Not one to sit still, Chef Sergio has continued traveling in Japan & South East Asia which has led him to immerse himself in the cultures and flavors of Southeast Asian Cuisine. His newest venture "The Golden Triangle" features the food and flavors of that rich and vibrant region and is a testament to his continued growth as a chef and restaurateur.